Important Update! On April 13, 2006 we started producing WordPress themes on regular basis. We add 5 new themes every week. Check out our collection!
Important Update! September 25, 2006 all these free wordpress themes now support widgets. The coding was improved too – no tables!
We are glad to release free Word Press themes. For those who doesn't know what Word Press is we recommend to visit their official site. In short, Word Press is blogging software. By the way, we use it on our blog.
Now we present five themes, which are available for free. Yes, you read that right. All five themes are absolutely free! So enjoy!

NOTE: after clicking 'download this theme' you will be redirected to a special page on Template Monster where you can download any of these themes.
Cameron Moll Grunge Mix
Authentic Boredom – a web home of Cameron Moll, a great new media designer, inspired this theme.
Back to the formal side of the description this theme is centered on page. The sidebar is on left on all views. There is a certain header image, and light grey background.
Download Cameron Moll Grunge Mix – Free WordPress Theme
View Cameron Moll Grunge Mix theme
Corporate Play
This theme is centered on page, has the sidebar on right on all views, and green and orange background. Why 'corporate play'?
"when designing the theme I wanted to create a design that may suite the spirit of new corporations, which are not last-century companies but do feel the spirit of the Web and want themselves be blogged on it."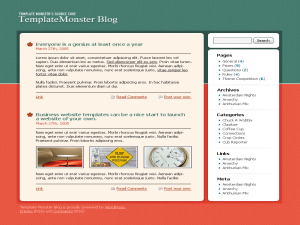 Download Corporate Play – Free WordPress Theme
View Corporate Play theme

Fighting the Darkness
Extremely dark background and light writing area gave a name to this theme. We all fight the darkness in some way: destroying departmental mood that kills personality, brining true values to life, trying to be supportive to our family and friends. This theme suite those who writes about their controversial live experience no matter what the background is.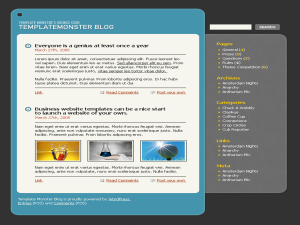 It is centered on page, has a sidebar on right on all views, round corners, and dark background.
Download Fighting the Darkness – Free WordPress Theme
View Fighting the Darkness theme
Lonely Lemon
Lemon is fresh just like loneliness may be some time. It is a nice addition to lots of cocktails so a blog can be to your life. Maybe it is worthless to wear depressed mood whenever you feel lonely. Maybe it is better to use this moments of your life as a short slow down to revise your previous experience and find some answers to your life questions. Blog gives you a nice opportunity to do it.
It is centered on page, the sidebar is on left on all views, and it has a header image.
Download Lonely Lemon – Free WordPress Theme
View Lonely Lemon theme

Tropical Grunge
The theme combines the tropics mood with a grunge spirit. Something alternative, something not so sweet looking…
The theme is centered on page, the sidebar is on right on all views, it has round corners, header image, and dark green background.
Download Tropical Grunge – Free WordPress Theme
View Tropical Grunge theme

OTHER NOTES:
1. Each ZIP archive contains a special readme.txt file. Please, read it before using the theme.
2. We do not provide support for these themes but we appreciate your help in improving them. If you found a bug with them please let us know in the comments to this post.